Plastic Anchors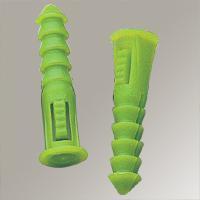 Plastic Anchors
Product ID: 38 (Super Type)
U-CAN-DO Hardware Corporation has been manufacturing plastic anchors, hard wall hangers, metal picture hangers, all-purpose hooks, wires, nails and screws in all sizes for more than decades as an OEM supplier. In particular, our plastic anchors are one of our popular products. Our high quality and good service have earned us an esteemed reputation for honesty and integrity with our customers.

For our plastic anchors, bulk purchases or small quantities are welcome. We also give you the choice of packaging with your own logo and designs or you may choose U-CAN-DO designs. We guarantee you the best quality and finest service possible. Cooperative efforts would assure the greatest profits which we could share in the coming year.

Established in 1994, U-CAN-DO Hardware has won customers' trust in the field of the DIY hardware market. If you are looking for quality plastic anchors, we are your primary selection for choosing a standard product.


See more complete detail
| Code No. | Anchor size | Use Screw size |
| --- | --- | --- |
| #A 8006 | 3/16" x 7/8" | 3 - 4 mm |
| #A 8008 | 1/4" x 1" | 4.5 - 5.5 mm |
| #A 8010 | 5/16" x 1-3/8" | 6.5 - 7.5 mm |