Screw Eyes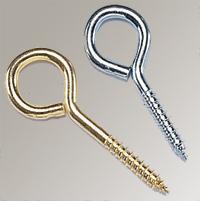 Screw Eyes
Product ID: 17
The screw eyes are commonly used to attach cables to objects. For example, they can attach a string to the back of a painting to allow the painting to hang from a nail on a wall. They are also called eye bolts, the screws with a loop on one end and threads on the other end. Screw eyes can be applied to hanging picture frames, kitchen utensils, gate hooks, workshop items, and party decorations.

U-CAN-DO Hardware Corporation has manufactured hard wall hangers, metal picture hangers, all-purpose hooks, wires, nails and screws in all sizes for more than decades as an OEM supplier. Our high quality and good service have earned us a reputation for honesty and integrity with our customers. The screw eyes are packed in bulk, blister packaging, compartment box and poly-bag.
We welcome you to advise us of your need anytime. You may contact us by e-mail or fax. For any question about screw eyes or other products. It would be our pleasure to serve you. Feel free to direct any inquiries or request for service at any time.
Specifications:
Iron zinc plated.
Iron brass plated.
Size:

1/2"
5/8"
11/16"
13/16"
1"
1-1/4"
1-3/8"
1-5/8"
1-3/4"
1-3/4"
2"
2-1/8"
2-1/8"
2-3/8"
2-5/8"
2-3/4"
3-1/8"
3-5/8"