Plastic Hooks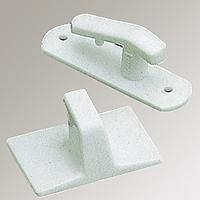 Plastic Hooks
Product ID: 10 (Plastic Adhesive Type)
U-CAN-DO Hardware is a leading manufacturer, specialized in offering plastic hooks and related products. We offer you a low cost solution to product merchandising corrugated displays. With our full line of plastic hooks, you will be able to find the right product for your application. Our unique design and fine material has already made our hooks become a popular product

Before using our plastic hooks, ensure that surface is clean, dry and free from grease or dust. Marking exactly where it will be placed, as repositioning will cause the adhesive to weaken. Peel off the release paper without touching the adhesive. Place in the required position and press firmly to ensure good contact. Leave in place for 12 hours before hanging item.

With rich experience on manufacturing hooks and hangers, we are regarded as the leading manufacturer in the industry. Most of our plastic hooks are sold in European market. For delivery, we can pack products in bulk, blister packaging, compartment box and poly bag. If you are looking for quality hangers, please contact us today!
See more complete detail
| Oval Adhesive Hooks | Oblong Adhesive Hooks |
| --- | --- |
| Size | Size |
| W42mm x L57mm | W50mm x L50mm |
| W43mm x L39mm | W50mm x L34mm |
| W28mm x L38mm | W33mm x L33mm |
| W17mm x L26mm | W20mm x L63mm |