Extra Heavy Duty Picture Hangers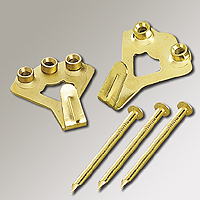 Extra Heavy Duty Picture Hangers More detail
Product ID: 03
A kind of picture hangers.
The nails-concrete nails used on concrete and cinder block surfaces.
With nails or without nails.
Packed in bulk, blister packaging, compartment box and polybag.
See more complete detail
Extra Heavy Duty
Picture Hangers
Concrete Nails
Size
Size
#30 LB W/1 Hole
1"
#50 LB W/2 Holes
1 1/2"
#100 LB W/2 Holes
2"
#100 LB W/3 Holes
2"